WELCOME TO THE CKCR PAGE

Thanks to GARY MEGAFFIN for his help in getting this page up and running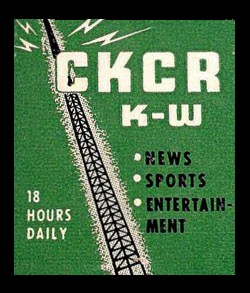 HOW IT ALL BEGAN: (according to Wikipedia )

The station was originally launched in 1929 as AM 645 CKCR. The station's frequency moved to 1510 in 1934. In 1949, FM sister station CKCR-FM was launched.

(CKCR was formerly a call sign used at a radio station in Saint John, New Brunswick, and later in Revelstoke, British Columbia. It's uncertain, if the CKCR call letters are still being used today).

Canadian Radio Stations as of 1924

The following was taken from the Nov. 1, 1924, Radio Service Bulletin, a publication of the U. S. government. Wavelengths are in meters; there is a question mark in parentheses after the CHCO call in the original; CGAC is shown in two locations; no wavelengths are given for two stations in the original.

CFCA Toronto Ont Star Publishing & Printing Co.

CKCR St. John NB Jones Electric Co.

Downtown King Street, CKCR sign idents location of studios.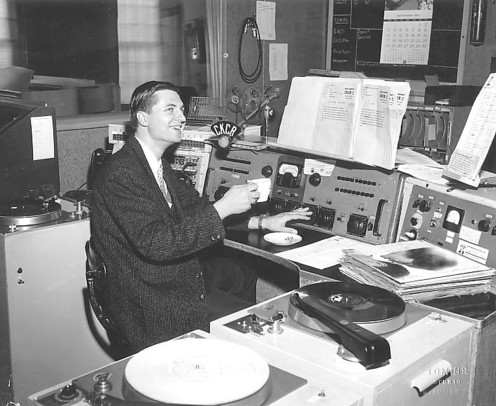 A photo from 1961.  When Gary was doing mornings it was called "The Good Morning Show" and somehow Gary became labelled as "Laffin Megaffin" as he used to laugh at his own jokes...no one else did, but he did...! 

   What real radio looked like in 1961.  On The Board.  Turn-tables, Ampex tape machines, reading copy live, cueing up LP's, and answering the phones and no operator...!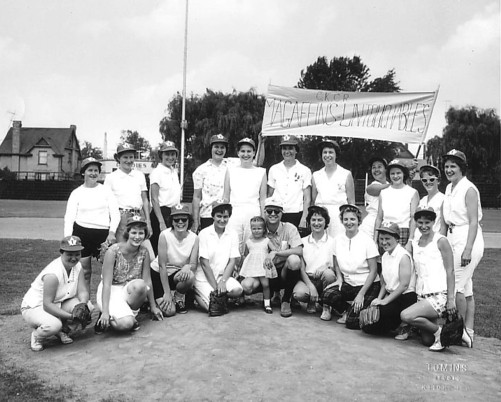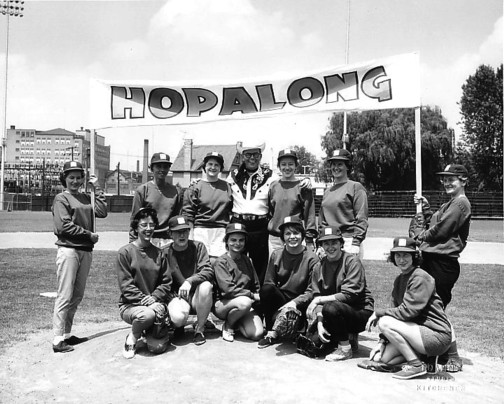 Gary writes'

"When I started to include some "Open Line" phone calls into the mix of the morning show, a woman called one morning and said she was playing baseball on the street with her kids and their friends.  She wondered if she should do this and what would people think.  Well the phones exploded with support.  Schaus, hearing this came running into the control room, when he arrived at the station that morning, and said, "I've got a great idea."  He said we would form a CKCR Ladies Baseball League.  Each announcer was the manager of a team and we played throughout that summer at the park just off Strange Street.  To organize the promotion we asked that anyone who was interested in playing for the CKCR Ladies Baseball League to attend a meeting at the Auditorium.  Here are two photos of that meeting with Don Cameron, Gord Schaus, Jack Schoone, Ian Byers and John Hodges. At the end of league play the top two teams played off for the CKCR Trophy.  Fortunately my team "Megaffin's Untouchables" and Hoppy's team "Hopalong's All-Stars" played for the trophy and here we are arriving for the big game in style."

"Megaffin's Untouchables"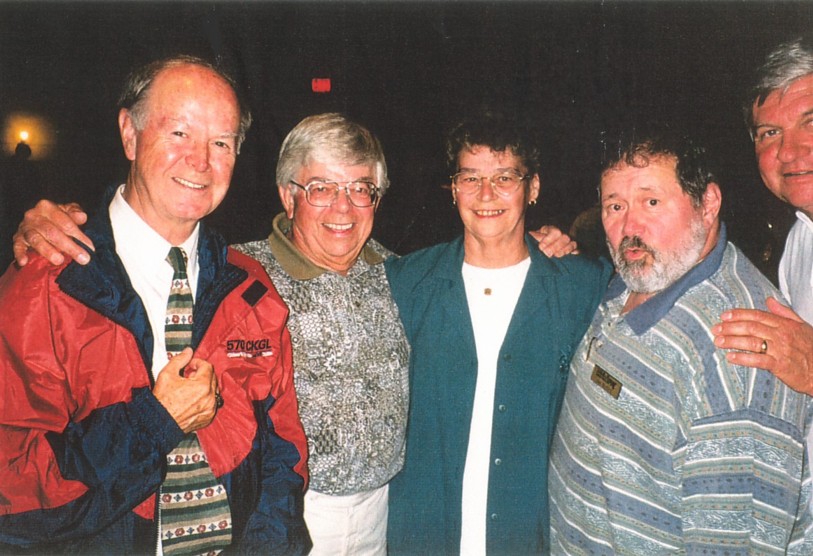 In 1998 Don Cameron retired and a party was held at the Knights of Columbus Hall.  In this shot is Don, John, Jenny Lavery, long-time CKCR and CHYM staffer, Ian Byers and Gary Megaffin


OK....that's the official stuff, now here's the scoop from Gary...

The History of CKCR AM and FM The Twin Voice of the Twin Cities

CKCR-AM began in 1929 when John Patterson obtained a licence to broadcast on 645 AM with a power of 50 watts.  Ownership changed to Kitchener-Waterloo Broadcasting in 1934 and CKCR-AM began broadcasting on 1510 AM.  In 1949 Clyde Mitchell and Gilbert 'Gib' Liddle, owners of CKCR-AM now broadcasting on 1490 AM, received a licence for an FM station in the Kitchener-Waterloo market. Adding an FM station was more a defensive gesture than anything. Transmitting on FM was relatively inexpensive, and should the medium take off, CKCR would be ready.  CKCR-FM signed on the air later in the year, simulcasting the programs of its AM sister station. The FM operated on 96.7 MHz with a power of 350 watts. Studios were in the Arcade Building, 125 King Street East, in downtown Kitchener. CKCR was a CBC Dominion affiliate and became known as CKCR-AM and FM The Twin Voice of The Twin Cities.  

In 1963, J. Irving Zucker and Sydney Paikin purchased Kitchener-Waterloo Broadcasting Co. Ltd, ending the Mitchell-Liddle era. Zucker and Paikin were the owners of CHIQ in Hamilton.  Zucker and Paikin were major shareholders in CHIQ-AM in Hamilton.

In 1965 Greatlakes Broadcasting System Ltd., a partnership that included Maclean-Hunter Ltd. (50%), Don Hildebrand (25%) and Clair L. Chambers (25%) purchased CKCR AM and FM. Greatlakes Broadcasting System Ltd. was formed by the merger of Kitchener-Waterloo Broadcasting Ltd. with Greatlakes Broadcasting Ltd., owner of CFOR Orillia and CFCO Chatham.  On February 25, the ending of an era came when CKCR-AM-FM became CHYM-AM-FM.

In the early 60's at the height of CKCR's radio dominance in the twin cities staff included the following.

Announcers

6:00 AM to 10:00 AM - Gary 'Laffin' Megaffin ( other guys who did mornings include; Jack Barr, and Albert Dyck, aka Dick Albert )

10:00 AM to 2:00 PM – Ron Burgoyne and Betty Ann Rogers

2:00 PM to 6:00 PM – Ian 'Eenie Beenie' Byers

6:00 PM to 8:00 PM – Alan Murray

8:00 PM to Midnight – Sam Price

Other On-air Staff                           News and Sports Department

Merv Stack                                         Don Cameron

Don Derry                                           Paul Freeman

John 'Hoppy' Hodges                    Stan Switzer

Dave Cash                                         Phil Clayton

Murray Davidson                                

Scott Cameron                                  Sales Department

Dave Mickey                                      Jack Liddle

Jack Schoone                                   Bill Radiff

Grant 'Grantly' Hoffman                  Ralph West

Dick Austin                                        John 'Hoppy' Hodges

                                                             Gord Schaus

Program Director                             

Dick Weber                                                        

Gord Schaus was the manager while Jack Schoone was the station accountant as well as hosting the Night Hawk Show on the weekends.  Grantly also had his rock-n-roll show on weekends.  Molly Zak was our astute librarian.  Jenny Lavery handled traffic while Murray Davidson was copy chief while handling some on-air duties.  Ion Hartman kept us on the air as CKCR's engineer.  Hoppy handled the daily Hiway Market Show and his Country Music Show while fulfilling his duties in sales.  Dave Cash as head of production also filled in on-air as needed.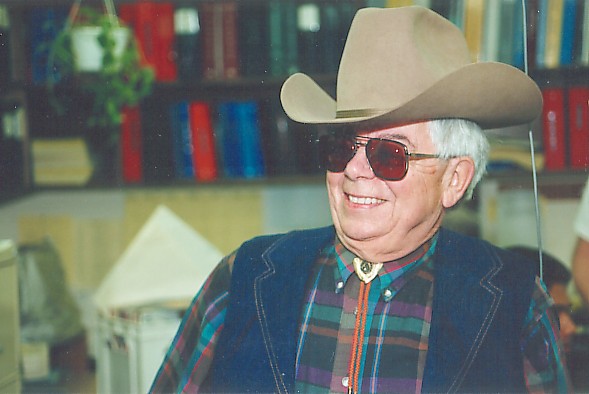 Here's a shot of "HOPPY" from 1995. He was one of the most popular radio personalities in the twin cities, and had a loyal following not only for his radio shows, but for the "Search For Talent" live shows he ran throughout the county. Hoppy played an important part in the career of several local country artists. He began on air with CKCR and eventually moved to CKKW, where he spend many years in the sales department and on air with his "Saturday Morning Jambouree" John "Hoppy" Hodges a local "character" who will be remembered fondly  by his fans and friends.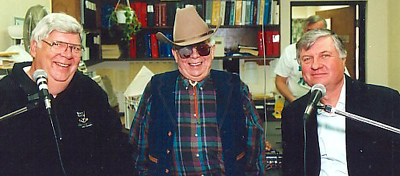 Getting together in 1995 to shoot the breeze about the good ol' days at CKCR. L to R, Grant Hoffman "Grantly", John "Hoppy" Hodges, and Gary  "Laffin" Megaffin.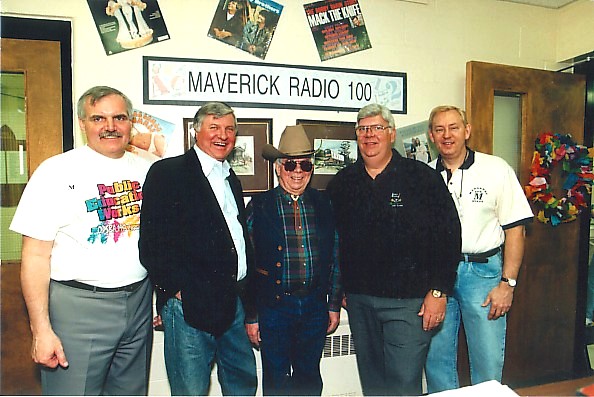 l to r:  Rod Charles (Hoddle), Gary, Hoppy, Grantly, and *Bill Tschirhart

* See story page for more on Bill


While you're here, sign our guest book please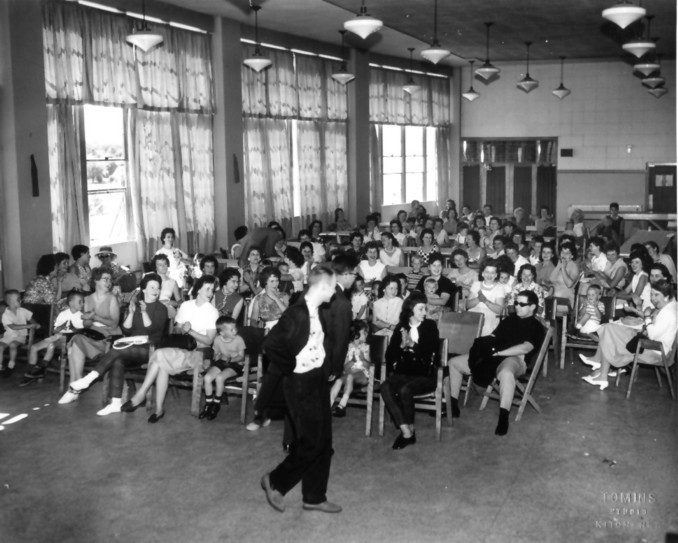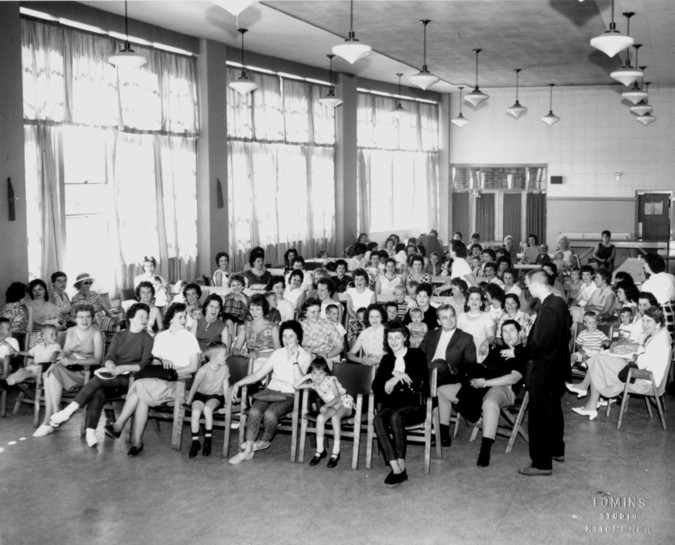 Member of CAB Hall of Fame ( information copied from the CAB Hall of Fame Bio page )

Schoone, Jack (1938- )

Jack Schoone, a man who learned to love radio, had a penchant for buying radio stations. His appetite to be an owner was kindled when  Hamlton's Irving Zucker hired him in 1959 to be the controller for two Kitchener radio stations that he had just bought. While, following his discharge from the Canadian Army, Jack had studied to become an accountant, he soon found his way to a microphone. Two years later, at 23, he was the manager of CKCR-AM and FM. And so began a long and profitable relationship with Irving that lasted until the respected Hamilton neo-philanthropist and art collector died in 2002.

In no time at all, Jack's authority in Kitchener was extended to include Irving's fledgling  but struggling CHIQ in Hamilton. While Irving Zucker was well on his way to becoming a self-made millionaire, he did not at that time enrich his fortune from radio. The stations were sold and Jack was out of the broadcasting business.  But not for long. Determined to be an owner, in 1969 Jack found just what he was looking for. In a small northern New Brunswick town, CKNB Campbellton was for sale. With some input from Irving, Jack bought it. Eastern Broadcasting was born. Then another small station in Miramichi.

Eastern then moved in on northern Ontario and bought Roy Thomson's four stations in Timmins, North Bay, Kirkland Lake and New Liskeard. Then it was a jump to southern Ontario and the acquisition of the holdings of Countryside Broadcasting in Orillia, Midland, Huntsville, Parry Sound, Woodstock and Stratford. The year was now 1977. The score -- 23 stations.

In 2003, Jack Schoone was rewarded with something that money can't buy -- a well-earned place of honour in the CAB  Broadcast Hall of Fame.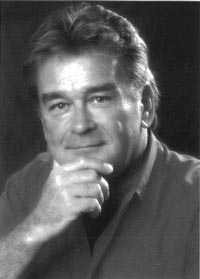 FOR THE

MEMORIES PAGE

CLICK THE BLUE BUTTON.


Things you didn't know about CKCR:

Bill Dulmage – 2006 (with contributions from Mike Tennant)

Written by Bill Dulmage - June, 2007

1924

CKCR Brantford was one of just 46 private commercial radio stations licensed in Canada. Like many stations of that era, it was a technology without an industry; owner John Patterson struggled to pry advertising dollars from local businesses.

Everything changed the day Arthur Sandrock came to visit. Sandrock: a well-connected Kitchener-Waterloo businessman, called on Patterson seeking airtime for his Church - St. Matthews of Kitchener. During their chat, Patterson confided his disappointment with ad revenues. When Sandrock asked what it might take to move the station to Kitchener, Patterson replied: five thousand dollars and studio space.

Once home, Sandrock went to work. Waterloo MP (and Minister of National Revenue) W.D. Euler promised to smooth the way with the federal government. Sandrock then secured five thousand dollars in advertising commitment from Kitchener-Waterloo businesses. While strolling along King Street in Waterloo, Sandrock noticed some unoccupied office space above Weichel's Hardware store. He promptly button holed the owner, W.G. Weichel, who was less-than-excited about donating the space. Undeterred, Sandrock won Weichel over with visions of free publicity for the hardware store.  With all the pieces in place, Sandrock had little difficulty selling Patterson on the move.

1928

CKCR Brantford had operated on 1120 kHz with a power of 25 watts, but moved this year to 1010 kHz with power of 50 watts.

1929

On July 22, CKCR signed on from it's third floor rooms above Weichel's Hardware, transmitting from the roof. The frequency remained 1010 kHz with power of 50 watts. Euler conveyed the good wishes of Prime Minister King. Weichel, who was both the local MPP and station landlord, spoke briefly. Professor C.F. Thiele led the Waterloo M.S. Band in rousing renditions of Whirl of the Waltz and Wee MacGregor Patrol. Patterson himself led the broadcast, crowing: "there's nothing like a radio station for promoting the best interests of a city".

The station manager was Clyde Mitchell, a former semi-pro goalie, who'd sold radio time before joining Patterson as a partner in Brantford. Coming aboard was a third partner, Gilbert 'Gib' Liddle. A veteran of Vimy, and wounded at Passchendaele, Liddle worked eight years in the clothing business before turning to radio.

The Kitchener Record, perhaps a little optimistic about the reach of a 50 watt station, reported on CKCR's introduction to "radio fans of Canada and the United States".

In theory, Mitchell was to manage station operations while Liddle managed sales. In fact, both served as programmers, technicians, salesmen and air staff.

1931

By this time, CKCR's broadcasts gravitated to the station's alternate address, in Kitchener's Walper Hotel. The frequency shifted to 645 kHz with 50 watts.

1933

Power was boosted to 100 watts.

1934

The frequency shifted again, this time to 1510 kHz with 100 watts.

Patterson sold his interest to Mitchell and Liddle.

As Liddle sold airtime, Mitchell travelled regularly to Toronto, returning with transcription records of popular national and international shows. CKCR's programming blended local choirs, pianists, cowboy bands and church groups with international favourites, including Jungle Jim, the Rhythm Rascals, Vera Lynn, and Fibber McGee and Molly.

Despite the stifling effects of the Great Depression, and despite the fact that one in six Kitchener citizens were on relief, CKCR grew. By the mid 30's, air staff had expanded to include "Doc" Lindsay, Ted Hartman, and future CBC legend Byng Whitteker.

1936

On September 18th , Mitchell and Liddle moved the studios to the third floor of the Waterloo Trust building, 24 King Street South (Waterloo), a block east of the Walper Hotel, formerly the quarters of the local Moose Lodge. At the same time, CKCR dropped its midday signoff, broadcasting daily from 9am til 11pm.

1941

On March 29, CKCR moved from 1510 to 1490 kHz.

1946

CKCR moved its studios and offices again, this time two blocks west, to the third floor of the Arcade Building at 125 King Street West. The new facility included a choral studio.

Power increased to 250 watts, transmitting from a nondirectional, 165 foot tower at R. R. #3 Kitchener.

CKCR broadcast from 7:30 a.m. to 11:00 p.m. six days a week; 8:45 a.m. til 11:00 p.m. Sundays. The station was a CBC Dominion affiliate.

  1949

CKCR-FM was launched, and simulcast AM's programming.

1953

Clyde Mitchell died.

1954

Gilbert Liddle passed away while on vacation.

Ownership of CKCR-AM-FM passed to the Mitchell and Liddle families, each owning an equal share.

1957

A government report showed the ownership of Kitchener-Waterloo Broadcasting Co. Ltd. as follows: Gilbert Liddle estate 49.7%, Mrs. Ruth Liddle 0.29%, J. Liddle 0.01%, Mrs. Ella Mitchell 49.7%, J.C. Mitchell 0.3%.

As radio changed in the 50's, CKCR changed with it. Live, local programming gave way to recorded hit music. Stand-up announcers became sit-down disc jockeys. Studios built to accommodate choirs and bands became empty caverns. Forgotten pianos quietly decayed in a corner.

At the same time, CKCR didn't forget the community's Germanic working class roots. Good Fridays and Easter Sundays were marked with continuous, funereal music, with no commercials. Local sensibilities were carefully observed: under no circumstances could the title "Beer Barrel Polka" be uttered on the air.

1963

J. Irving Zucker and Sydney Paikin purchased Kitchener-Waterloo Broadcasting Co. Ltd, ending the Mitchell-Liddle era. Zucker and Paikin were the owners of CHIQ in Hamilton.  Zucker and Paikin were major shareholders in CHIQ-AM in Hamilton.

Power was now 10,000 watts day and 5,000 watts night, using four 169 foot towers (different day and night patterns) at Registered Plan #48758, Lot 154, near Kitchener.

1965

J. Irving Zucker's Kitchener-Waterloo Broadcasting Co. Ltd. received approval to sell CKCR-AM and FM to Great Lakes Broadcasting Ltd. D. G. Hildebrand was president of Great Lakes and would be general manager of the Kitchener stations. He owned CFCO Chatham and CFOR in Orillia.

On February 25, CKCR-AM and FM became CHYM-AM and FM

Here's a few shots from the very early days of CKCR given to me by Reg Sellner. Reg started his career in broadcasting at CKCR in the 1950's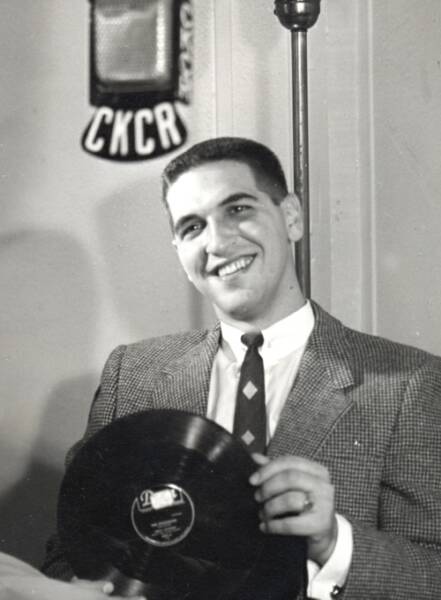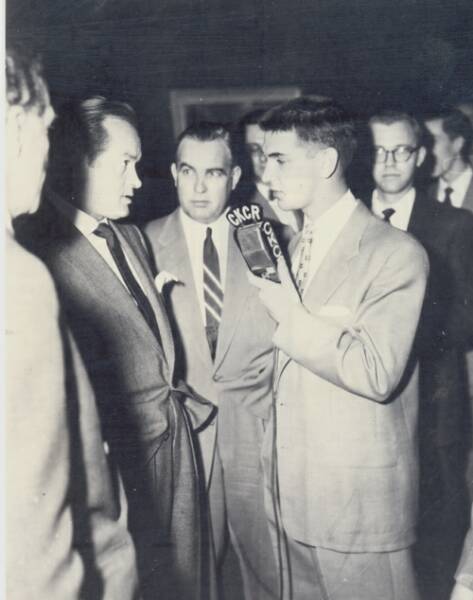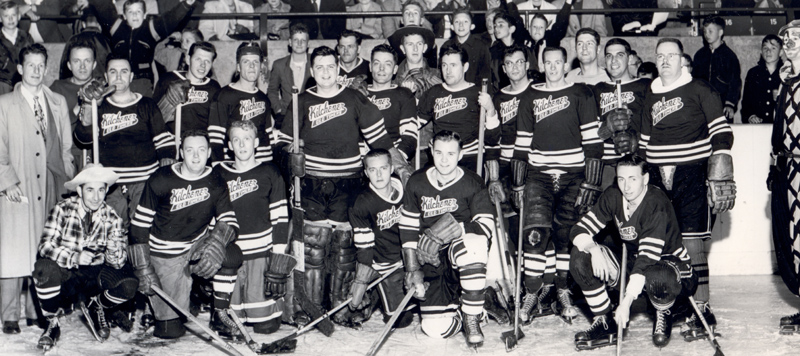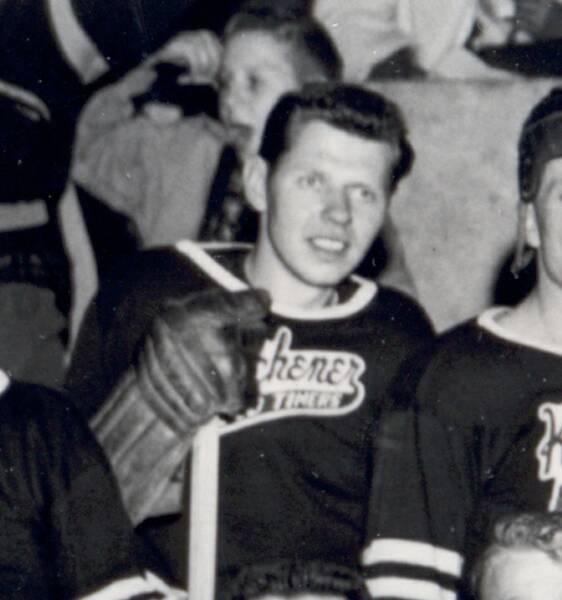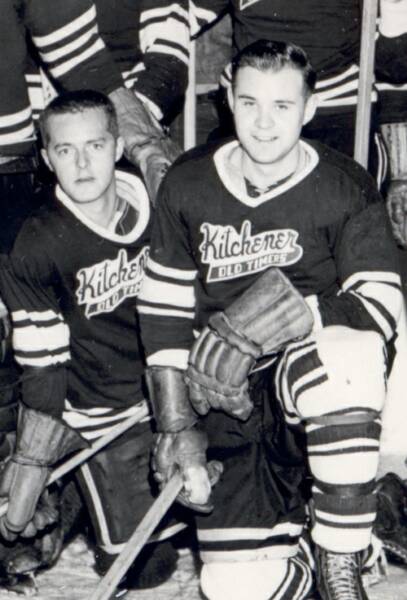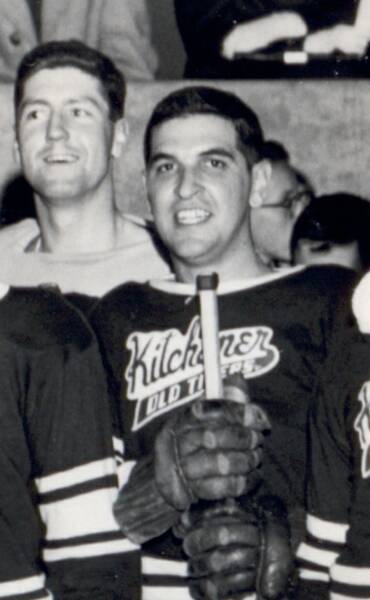 1954: Reg  did the 8:30am news,

music from 10:00 ~ 11:00 and 4:00 ~ 5:00 and then the 6:30pm news.

1954: Here's Reg interviewing Bob Hope.

1954: Here's the CKCR hockey team, put together as a "media team" to play in the Rotary Benefit Hockey Game. I've isolated a few familiar faces, have a good look at the picture and see if you can ident the rest and then let me know.

Bruce Lawson and Harold Zister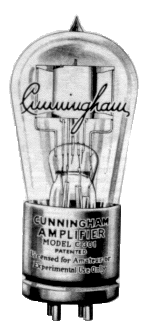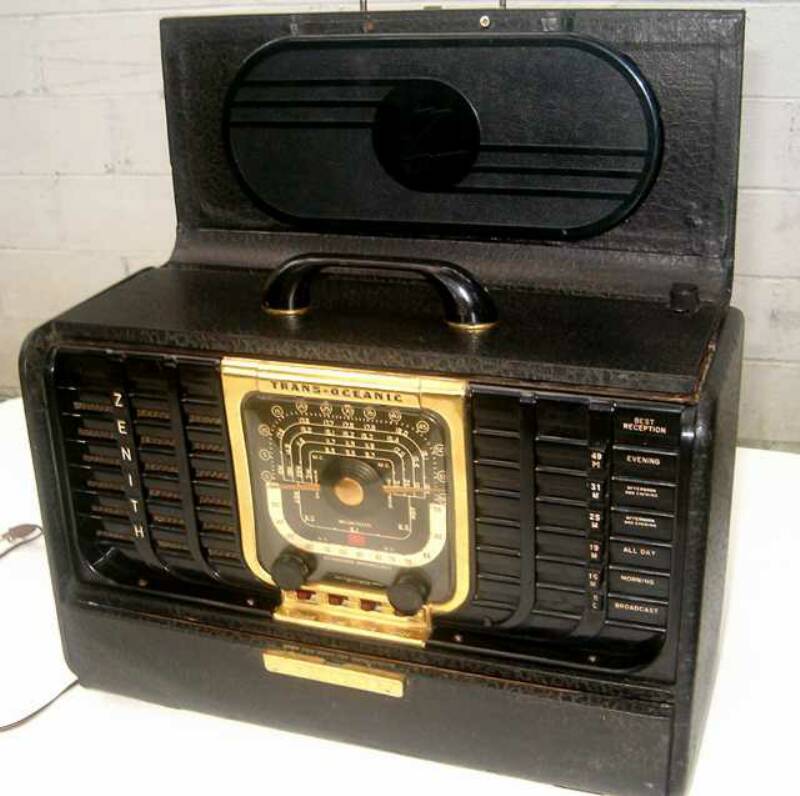 Ian Byers:  Ian was one of the radio personalities on CKCR in the 60's"

HUNTSVILLE, Ontario -- Veteran Canadian broadcaster Ian Byers has died.

The former owner of Huntsville, Ontario radio station CFBK-FM passed away suddenly yesterday at the age of 73.

Throughout his 55 years in broadcasting, Byers was a mentor to many and dedicated himself to civic and industry associations.

His early career days were spent in Kitchener and Hamilton, where he met Jack Schoone who went on to head Eastern Broadcasting.

Byers spent many years with Eastern at CFAN Newcastle, New Brunswick before acquiring the Huntsville, Ontario station in the early 90's.

He sold the station to the Haliburton Broadcasting Group last year.

Byers is survived by his wife Margaret, two daughters and three grandchildren.

A private family burial service will take place in Orillia with a memorial to follow at a later date.

(CFBK-FM)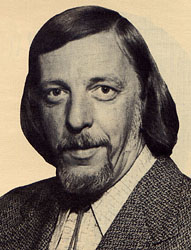 Dave Cash - CKCR AM/FM Kitchener-Waterloo ON 1953-56; host various shows including R&B Dave's Den and morning show CKOX Woodstock ON 1956-59; morning show CKCR 1959-63; CJOR Vancouver 1963; radio morning show and TV noon show CFTK Terrace BC 1966-68; morning show CJJC Langley 1968-74; evenings then weekends CKWX Vancouver 1975-91; retired

DICK WILLIAMS: Announcer CKCR 1956

CKCR [Kitchener ON] 1956

WSAI [Cincinnati OH] 1958

KDEO [San Diego CA] 1961

KROY [Sacramento CA] 1961

CFPL [London ON] 1961-1969

CJBK [London] 1977

CIQM [London] 1980

CKSL [London] 2000-2006

Dick Williams talk about radio:

I loved working with the man credited with the first 'fade', the immortal Frank Ward. He made radio exciting and fun. A great set of pipes. Frank came to WSAI in Cincinnati as P.D. from WKBW in Buffalo.

In those days, WSAI was located in the Sinton Hotel in downtown Cincinnati, Ohio. I was doing overnites at the time, and it was about 2AM when the studio door swung open, and there he stood: about 6'5" -- in his pajamas! I was stunned. Thought it was some drunk who had wandered in from the hotel (we had our share of them doing that, with no lock on the door).

His first words were, "Don't cough before you open your mic...swallow, and save your pipes!" Only then did he introduce himself.

He taught me all the basics I needed to become more proficient almost instantly. Radio has changed dramatically since then, but I sure learned from the best.

Another great mentor whose tricks with editing still stick with me is Mel Hall, from KDEO in San Diego. One of the greatest "blades" in tape-editing! Mel went on to PD at KRLA in LA and WJJD in Chicago. A tremendous talent with a voice to match!

I actually started in 1956 at CKCR in Kitchener, Ontario. I was a 16 year old kid doing full-time shows and summer fill-in. I've done every format, including Music of Your Life, (Nostalgia) Top Forty, AC, Jazz. Only exception is Country...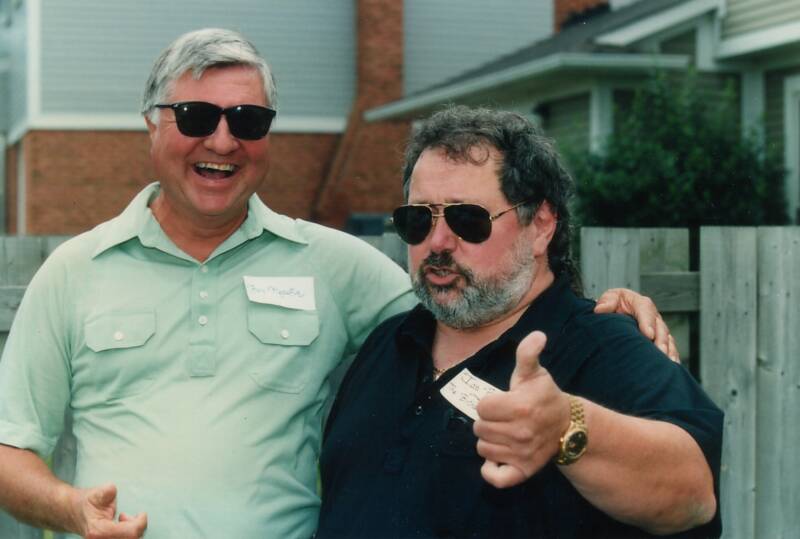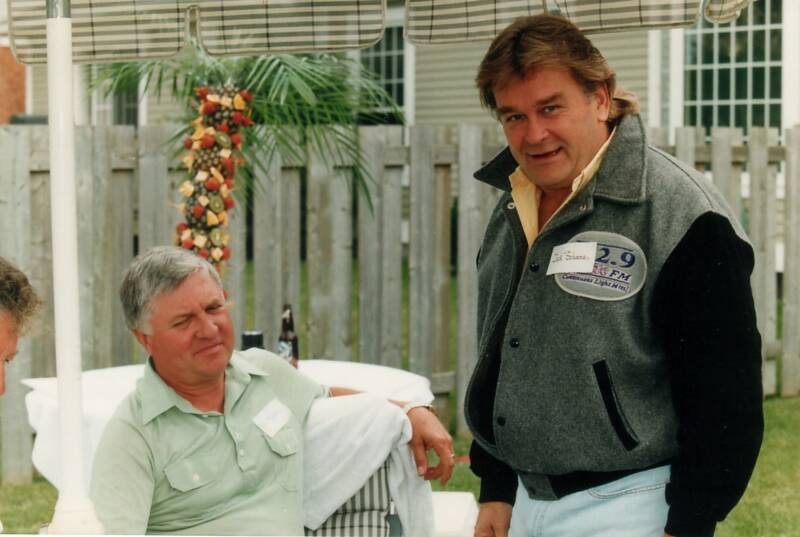 Gary Megaffin sent along a few pictures of Ian for the site....

"Dan, here are a couple of photos of Ian's 60th birthday celebrations taken at his daughter's in St. Catharines by Darryl Dahmer."

Gary with wife Joyce and Ian.

Dan's Note:  When Darryl Dahmer was just a teen, he began his broadcasting career as an operator with CKKW. At one time during those early years he was the operator on my talk show "OPINION"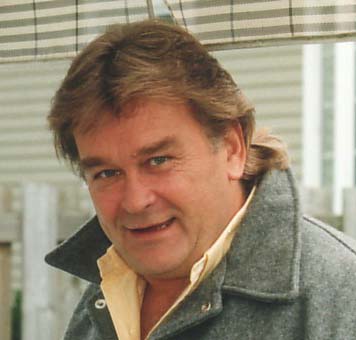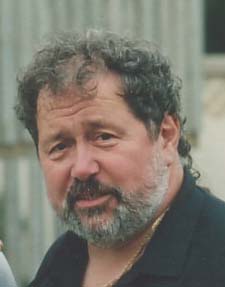 "Photo by Kitchener Waterloo Record from local history collection of rych mills"

The Radio-TV All Star Hockey Team (circa late 50s)

Back: Howie Heckendorn in suit,  ??  George Moskal 

Center: Joe McIntyre CKCO, Murray Davidson CKCR, Gary McLaren, Len Collis CKCO,  ??, ?? ??

Front: ??, Don Cameron CKCR,, Jim Smith CKCO, ??, ??, Harold Zister CKCO, Gary Megaffin, CKCR Morning Man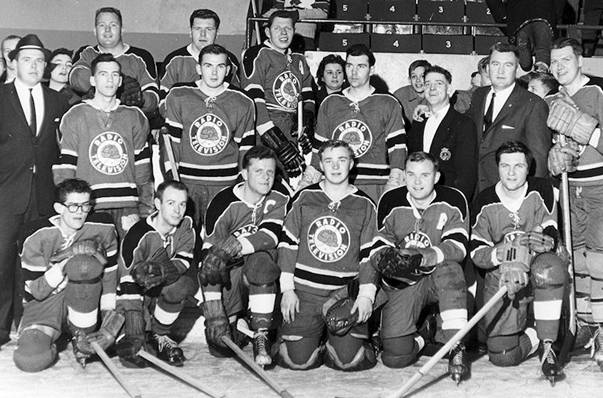 Here's another shot of the radio-TV team, sent in by Gary McLaren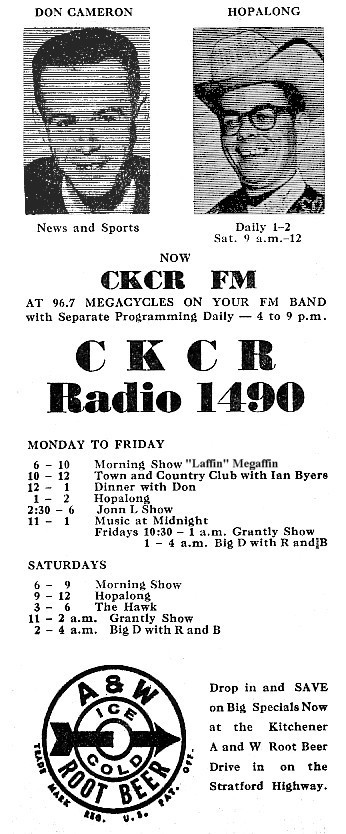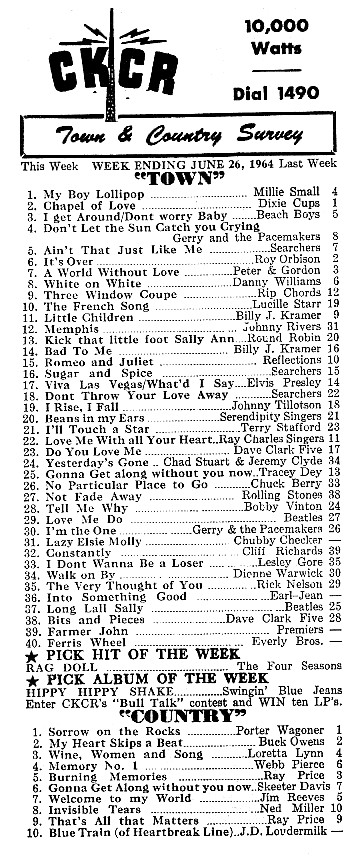 Here's a couple of new items from Gary Megaffin. Margaret Byers ( Ian's widow) sent these two ads to Gary from material that Ian has set aside over the years. We see a very young Don Cameron and ditto for Hoppy.. Check out the songs on the song list from June 1964.  Ya gotta love that Millie Small!! #1, "My Boy Lollipop"